If you like real tabbouleh, I think you will love this. The parsley is the star. This was just going to be Saturday lunch and a way to use up a half bag of the TJ's grilled veg, so of course I have no knolled ingredients or process photos to include. But, this was yummy enough to warrant a share – so forgive me.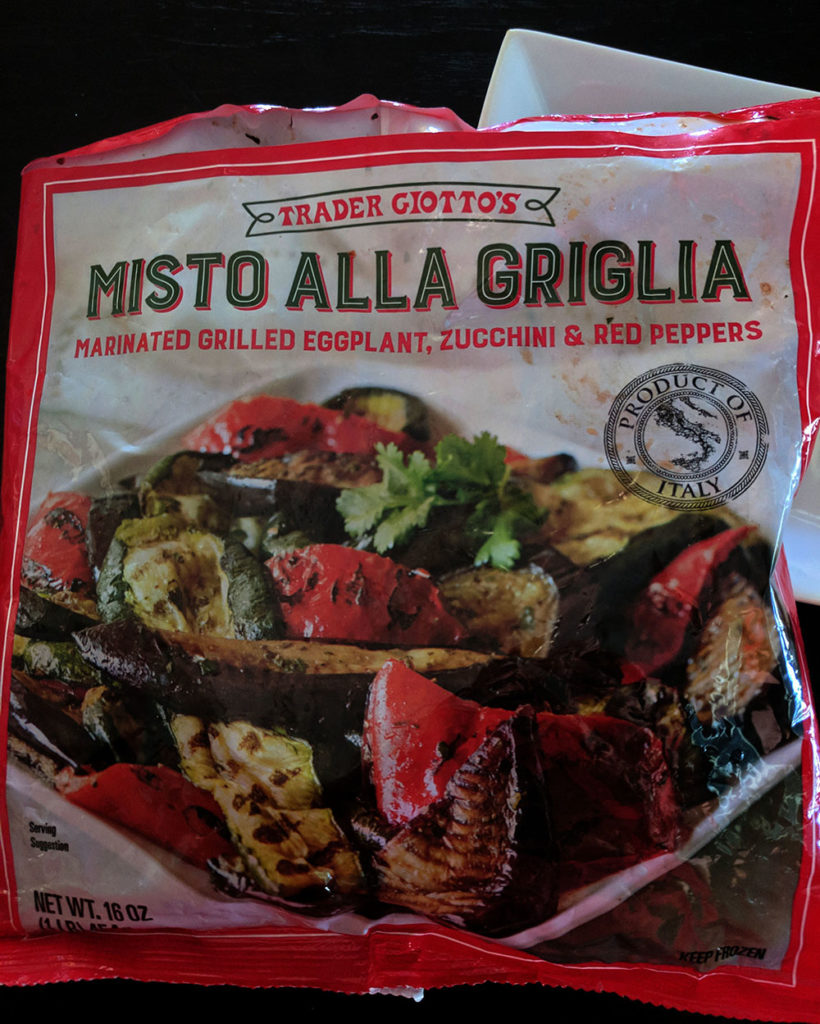 This is hearty, and fresh, and makes for a filling lunch. You could add some tuna to boost it up, if you wanted. Or just serve it as a side to some rotissimat chicken you picked up on the way home.
If you are lucky enough to be able to eat cheese, some chunks of feta in this would push it into the orgiastically good zone.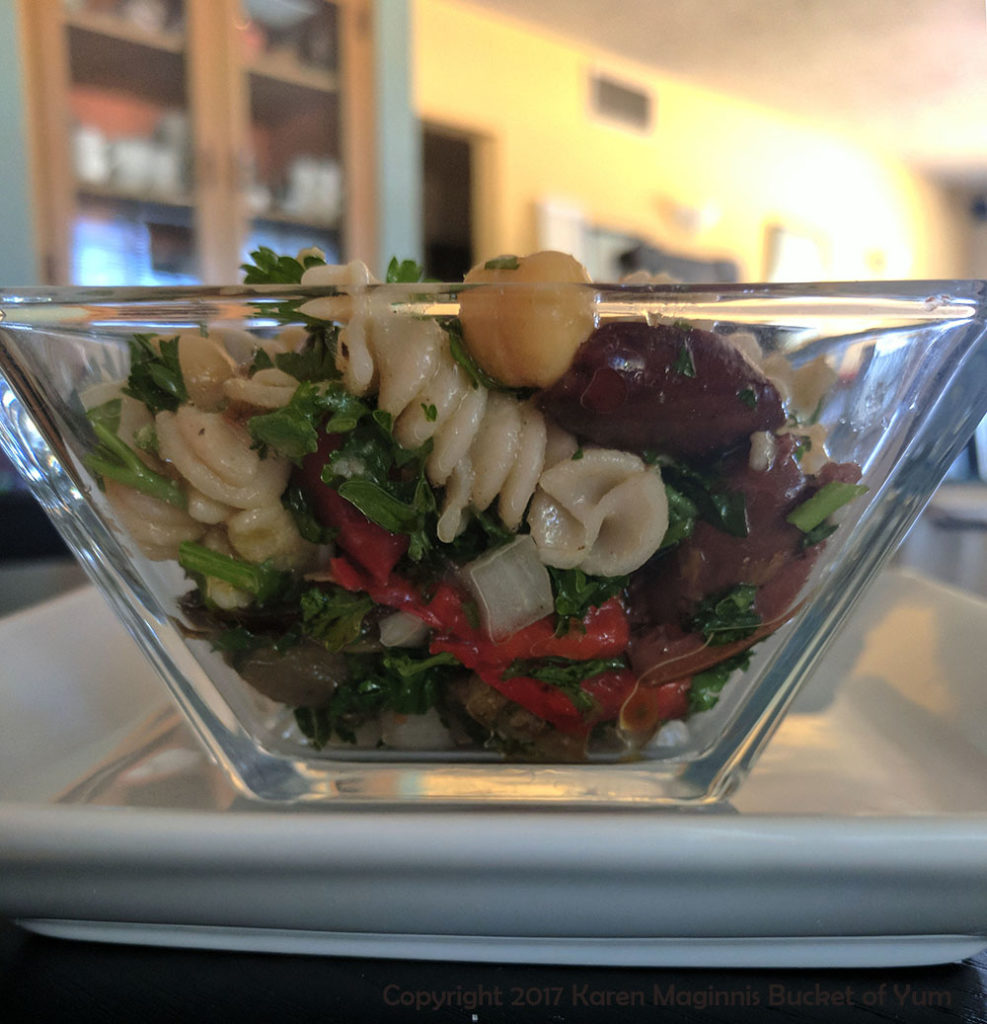 Try this – I am totally loving it, and I think you will, too.
Parsley Pasta Salad With Chickpeas in Garlic Dijon Vinaigrette
Salad Ingredients
½ pound rotini pasta, cooked according to package directions
1 can chickpeas, rinsed and peeled
1 small bunch ruffled parsley, chopped coarsely. (About 2.5-3c.)
12 ish pitted kalamata olives, sliced laterally in half
1/2 small white onion, diced
1.5-2c chopped grilled vegetables (I used ½ bag of the Trader Joe's misto alla griglia – it is red bells, eggplant and zucchini.)
Garlic Dijon Vinaigrette
3 fat cloves of garlic, minced or pressed
1/3 c. red wine vinegar
2 Tbsp. dijon mustard
½ c. extra virgin olive oil
A ton of freshly ground black pepper.
Directions:
Ok, while the water is boiling for your pasta, make the dressing. In a large bowl, whisk together everything but the oil, then drizzle and whisk it in last until you have a nice emulsion. Pour half of the dressing into a medium-sized microwave safe bowl. This dressing is really intense, do not panic. Once is mixed with everything it will mellow out.
Peel the chickpeas, put them in the bowl with the dressing and toss to coat. Microwave for one minute, stir and set aside.
While the pasta is cooking, chop your vegetable and layer them on top of the dressing in the bowl (but do not mix!) and put that in the fridge to wait for the last step.
When the pasta is al dente, drain it and then immediately put the hot pasta in the bowl with the chick peas and give it a stir.
Once the pea/pasta mixture has cooled to room temperature, toss it with the rest of the ingredients and it is ready to eat. Or, stick it back in the fridge. Because you coated the beans and pasta with that super-strong dressing while they were hot, you don't have to wait until tomorrow to enjoy this. It is ready right now.
This makes 4 meal-sized portions, or 8-10 sides.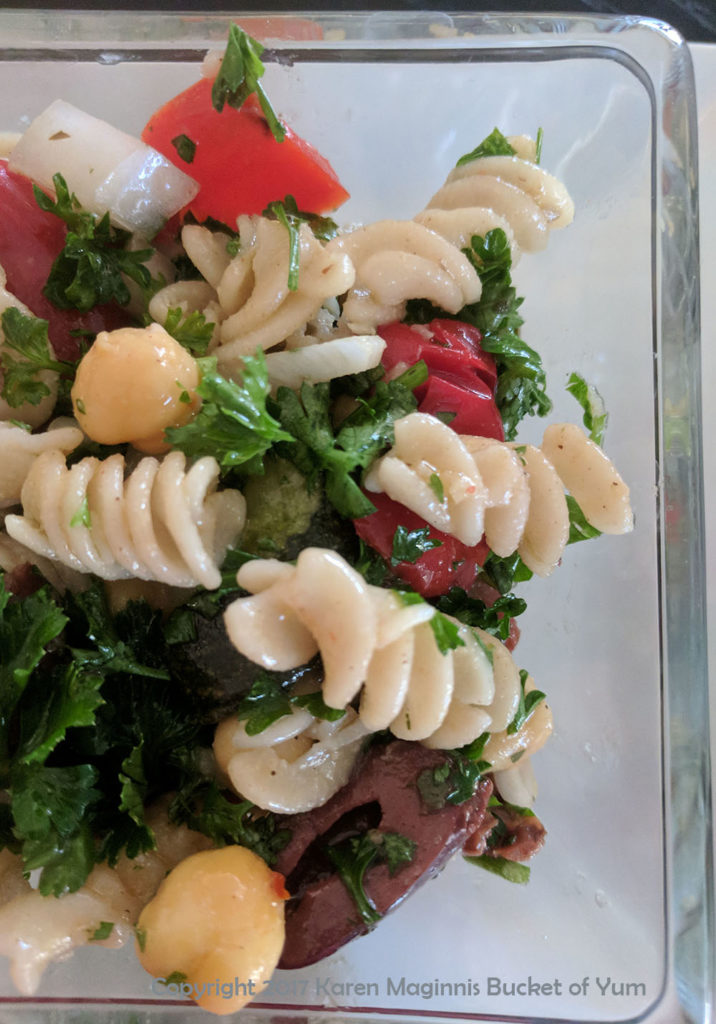 Nutritional Info
for the meal size, verywell.com says each serving has:
927 cal
38.7g fat
123.8g carbs (fiber 21.9g, sugar 12.5g)
29g protein
Plus – 110% Vitamin A, 93% vitamin C and 56% Iron.