Are you ready to taste summer? I am. I have found myself daydreaming about the bounty to come – piles and piles of tomatoes and squash and melon. And the salads. Oh, the salads. I find myself rejecting recipes of late if they involve turning on the oven. Mind you, it's not super hot yet. Not at all. It's just that I'm ready.
So it's safe to say the baking tornado of the last few months at The Yum are at an end. Which left me, well, idea-less for a post. After much guilt, I gave myself permission to say fuck all and go out for the day. Stop #1 – Za'atar for a falafel breakfast. I fucking love that place. Hopped over to Caravan while waiting for my order, and he had these gorgeous crates of mint and dill and cucumbers and eggplant and lemons and ……aaaaaah. I had to have some.
Those, some olives, some fig jam and sesame candies for Himself and away I went.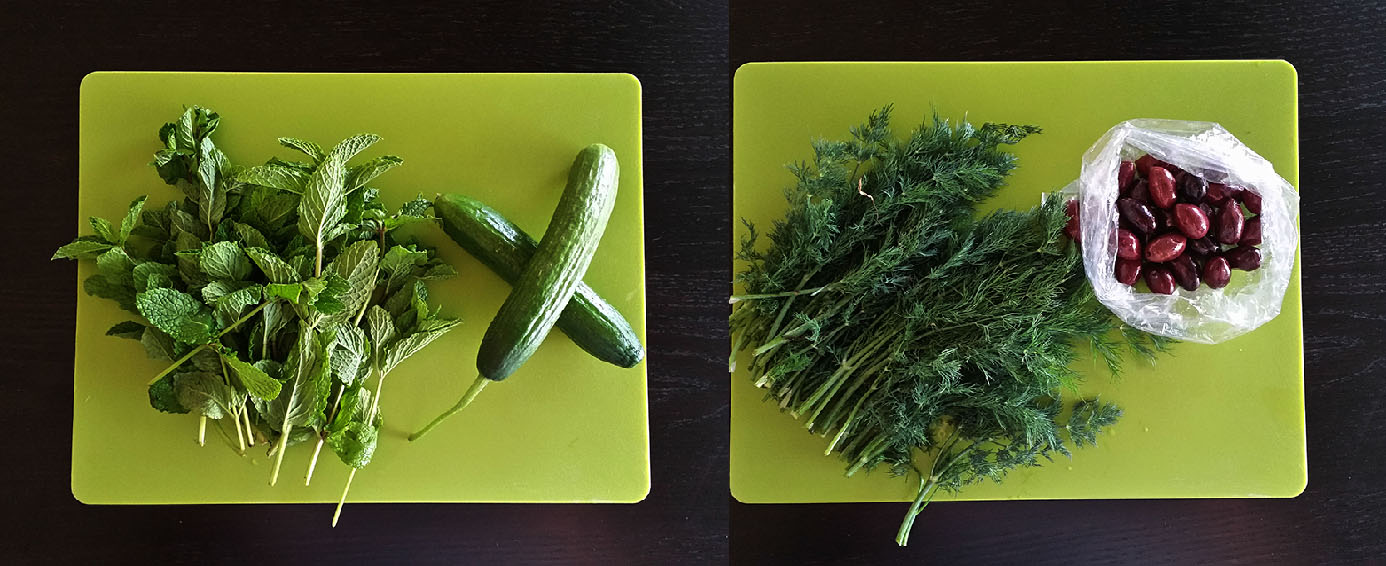 When I saw the watermelon in the fridge as I was putting things away, I knew what to make. And then immediately consume.
This is fast, and should be served and eaten immediately. I even got to feel all fancy-pants when I rolled the dill up in the mint leaves for a quick chiffonade. (Thank you, Sarah Moulton and FoodTV!) This baby is all about the fresh and crunch. Mmmmmm. Chompa-chomp-chomp.
You could totally add some cubed feta and a wedge of bread and call this summer supper (just leave out the salt if you do). I inhaled mine as a snack. Couldn't even wait to grill some chicken or something to eat with it.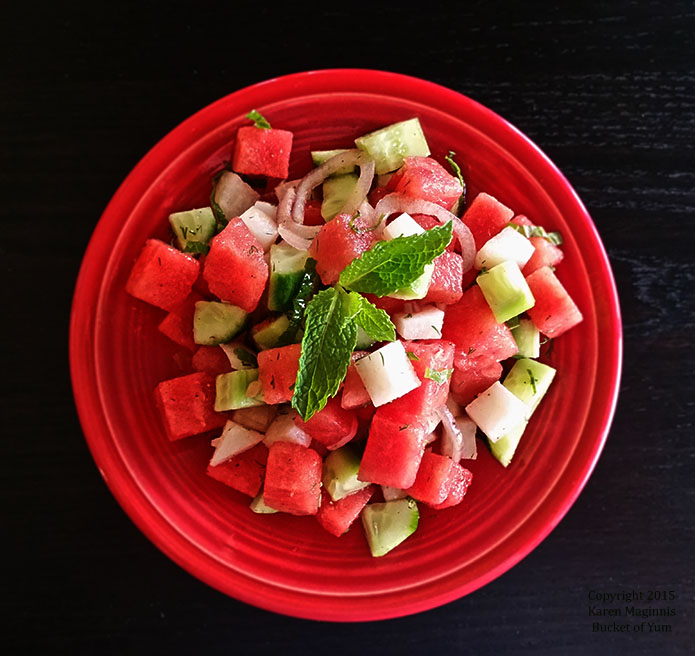 Come on, Summer. This just has me wanting you more.
Ingredients
2 c. watermelon in ½" dice
1 c. jicama in ½" dice
1 c. cucumber in ½" wedges
1 thin slice red onion, separated in to rings
Drizzle of olive oil
Drizzle of white balsamic or wine vinegar
Four or five fresh mint leaves and a thumb-sized sprig of fresh dill, chiffonaded
Dash of S&P
Instructions
Toss together and eat.
Servings 2
Calories 83
Fat 1 g
Sodium 6 mg
Carbs 20 g
Protein 2 g