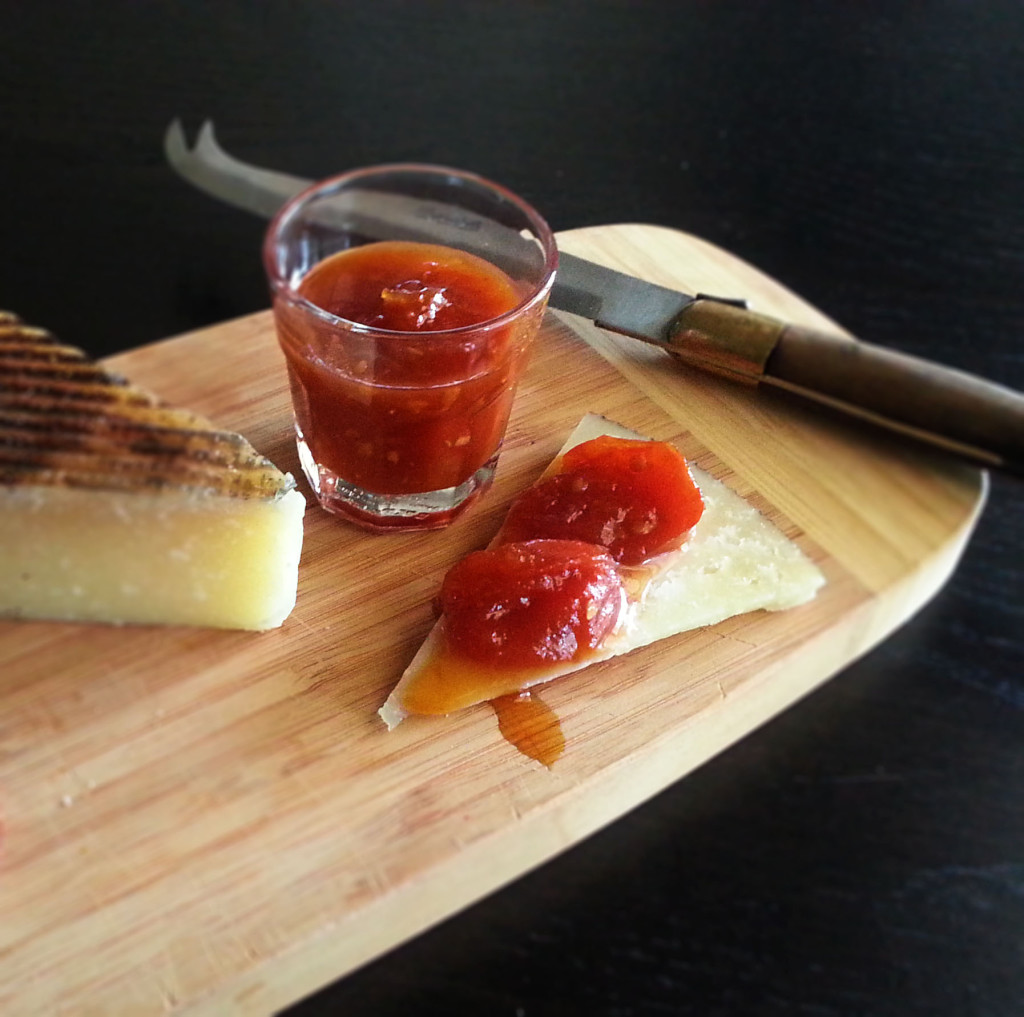 So, you know when you go to Costco and get that HUGE clamshell of cherry tomatoes, and you tell yourself – Oh! I'll eat all of them. They look so good! I'll have some every day!
Only a week later they look like this?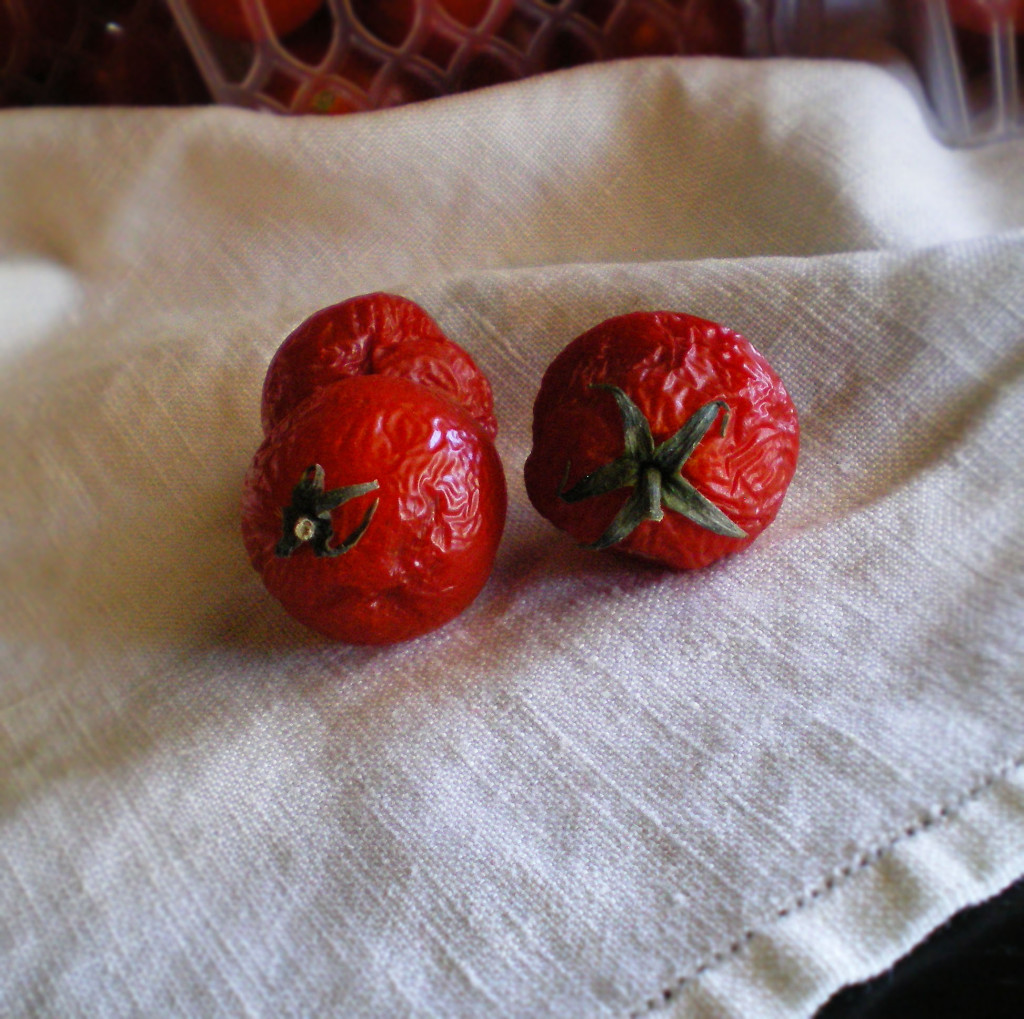 Or, maybe you have a neighbor who went to Market on the Move and brought you four pints of them? (Because you have the best neighbors ever!)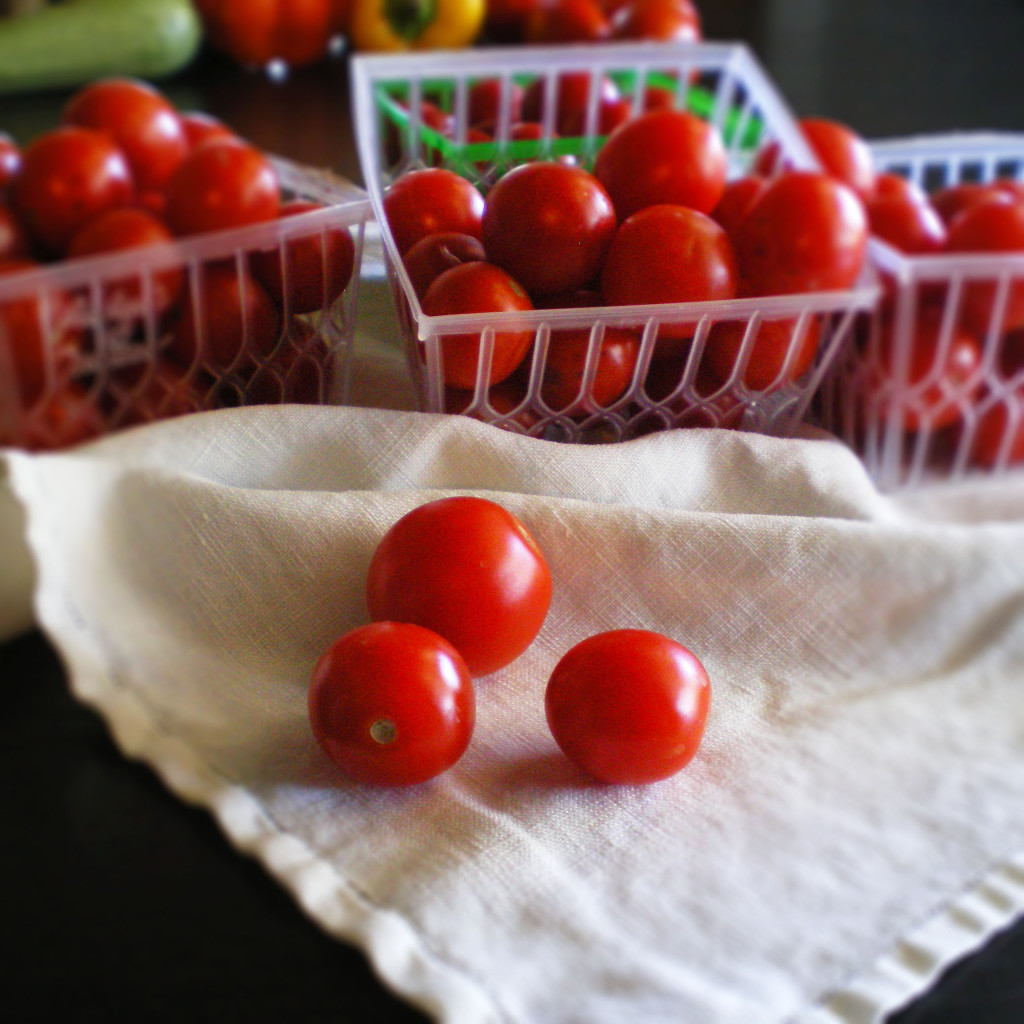 What to do, what to do? Soooo many cherry tomatoes. Some a little on the sad side. Well at our house, that means cherry tomato jam.
This stuff is like grown-up ketchup – it goes on everything. On a sliced baquette with some goat cheese. On a pork chop. On a ham and cheese scone. On a bacon sandwich. Everything, I tells ya.
I make mine with the toms, some grated onion and sliced shallot, thyme, sugar, balsamic vinegar, worcestershire, garlic and olive oil.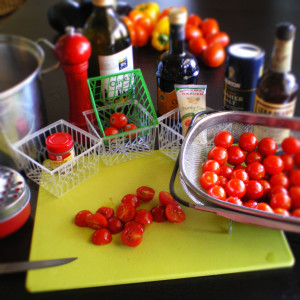 Since these were M-O-M cherry tomatoes, and most likely not organic, I gave them two good washes with soapy hot vinegar water.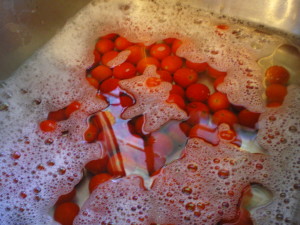 Anybody with a split skin, I tossed. (Hello? Hot soapy vinegar water?) Next, slice the toms in half. These aren't cranberries – they don't automatically pop when they're done. Trust me, I've tried. You get stuck trying to mash them at the end and it's a pain. Plus, this way you can inspect each one.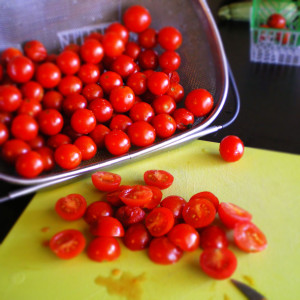 Throw them in the pot and simmer on low for a couple hours. I actually wound up having to add some tomato paste to mine. It *is*January, they weren't exactly chock full of tasty tomato-loids.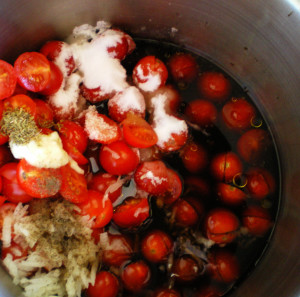 You can can it at this point. Or freeze it. Or just toss it in the fridge for up to a few weeks. I've been known to make a mini batch of these when I've got a partial pint mummifying on the counter.
I tried to use less sugar this time, and it did not set up – it's like a thick tomato jam sauce type thing. But still *very* tasty. Just not as pretty. And, unfortunately, I've promised some to friends so hello, cooking shame. Haven't seen you in like…a day.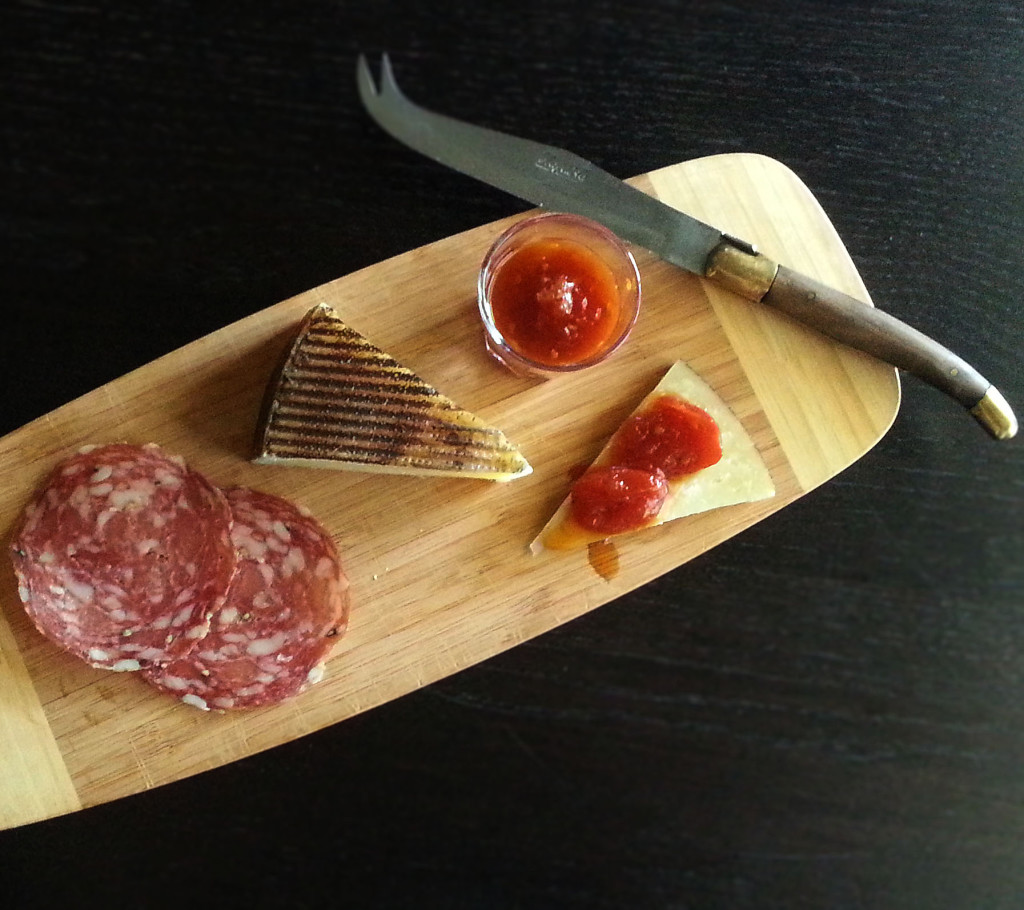 Alright – moral of the story? Never throw away ageing cherry tomatoes again!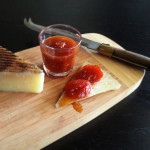 Cherry Tomato Jam, Not-So-Cherry
2014-01-11 18:30:40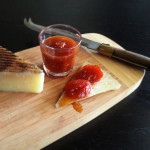 Serves 56
Sweet and tangy with thyme, vinegar and mild onion. Yum!
Nutrition Facts
Amount Per Serving
* Percent Daily Values are based on a 2,000 calorie diet. Your Daily Values may be higher or lower depending on your calorie needs.
Ingredients
4 pints cherry tomatoes (about 1.25 #), superwashed and halved
2 c. sugar *
2 c. water
2 Tbsp tomato paste
1/3 c. grated onion
1 medium shallot, sliced in to thin rings
3 cloves garlic, minced
1/4 c. (4 glugs) of good olive oil
1 Tbsp. wocestershire sauce (you know you can get anchovy-free vegetarian sauce, right?)
1/8 c. balsamic vinegar
Instructions
Wash and halve the toms.
Throw everything in a large pot and simmer on low for two or so hours.
Can it or freeze it.
Notes
This made seven half-pints.
You may want to add a touch more balsamic if you are freezing. Because I canned mine, I put two teaspoons of cider vinegar in each jar before filling it.
You should double the sugar if you'd like a more jam-like consistency.
Bucket of Yum http://bucketofyum.com/