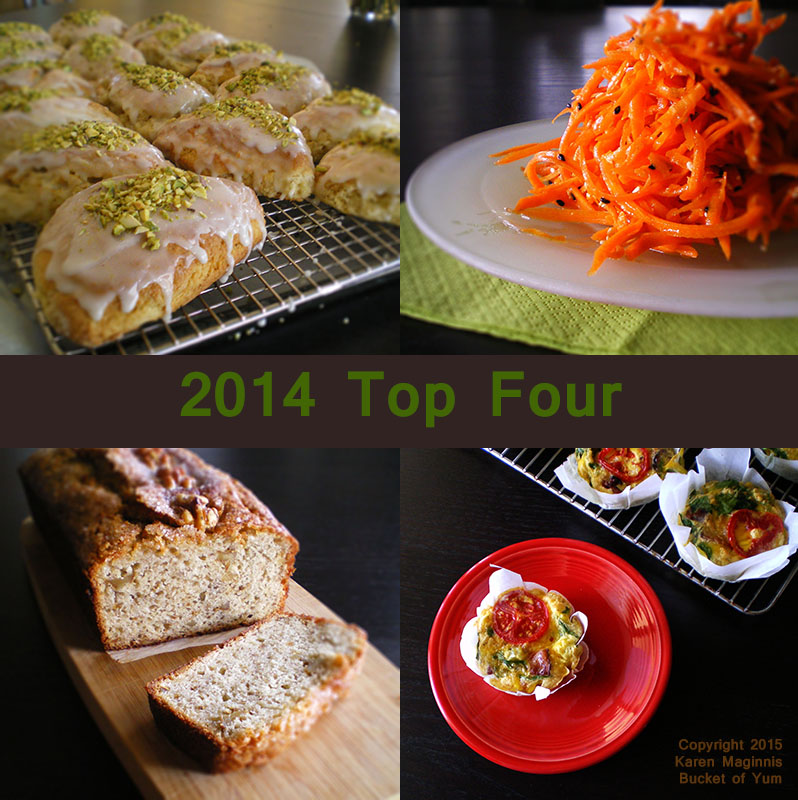 Here they are:
Lemon Pistachio Vanilla Scones
Carrot Salad with Ginger Clementine Vinaigrette
Bacon and Tomato Mini Oven Omelettes
It's been a very busy year. Fifty-ish posts. Three major hacking incidents; I actually had to get our hosting service to restore an old copy of the site in December because the hack was so insidious. I almost threw in the towel after that, but eventually decided some cowardly anonymous dickweed is not going to spoil my fun. One of the articles (oven omelettes!) got picked up by another site. Exciting times! (Thanks, Kate!) In the coming year, I want to improve my photographs, master more of the tech of the platform, and get comments to my posts. Even with those goals, I still wonder every day why I do this. Where do I see this going? The medium is super saturated; do I really have something unique to offer? I have a love/hate relationship with you, Yum. Many are the times I am so excited with an idea for a post, and yet sometimes I resent having to come up with one. But that feels pretty normal, honestly, and the fun still outweighs the work. So, away we go in 2015.
Anybody else out there blogging? Why do you do it? What keeps you going?