Thought I'd give that four hour baguette recipe another try. Then Karen happened.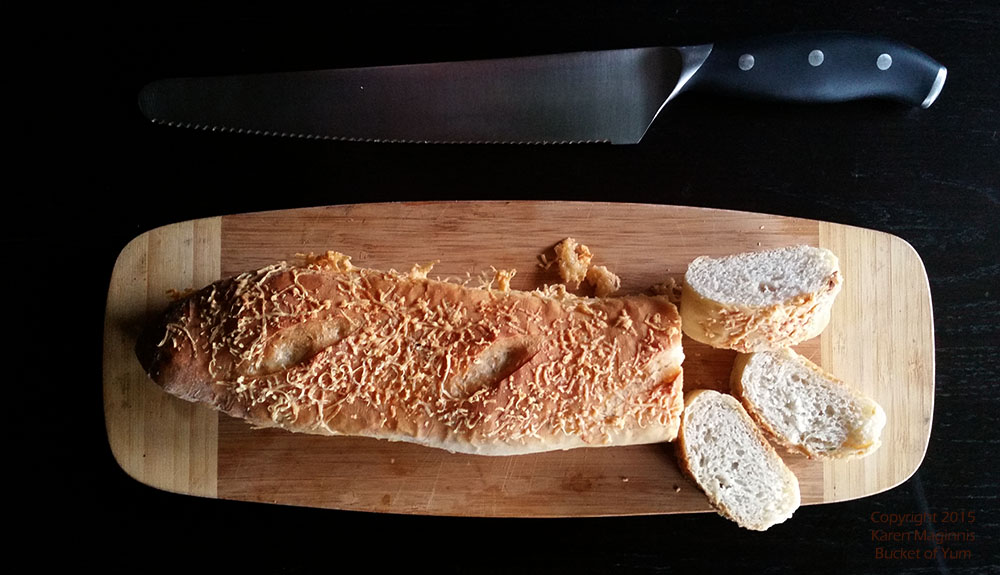 I decided to take a break from the poolish recipe this week. And this morning when I opened the fridge, I saw this garlic confit I'd made to go with a roasted eggplant salad. Mmmmm…..that would be really good in a loaf of brea….wait! That's it. And some herbs (with an H, people!). Thyme! Yes! Then shit got totally out of control with some shredded asiago cheese.
The cheese baking smell was a bit strong for our typically dairy-free household. But they sho are purdee.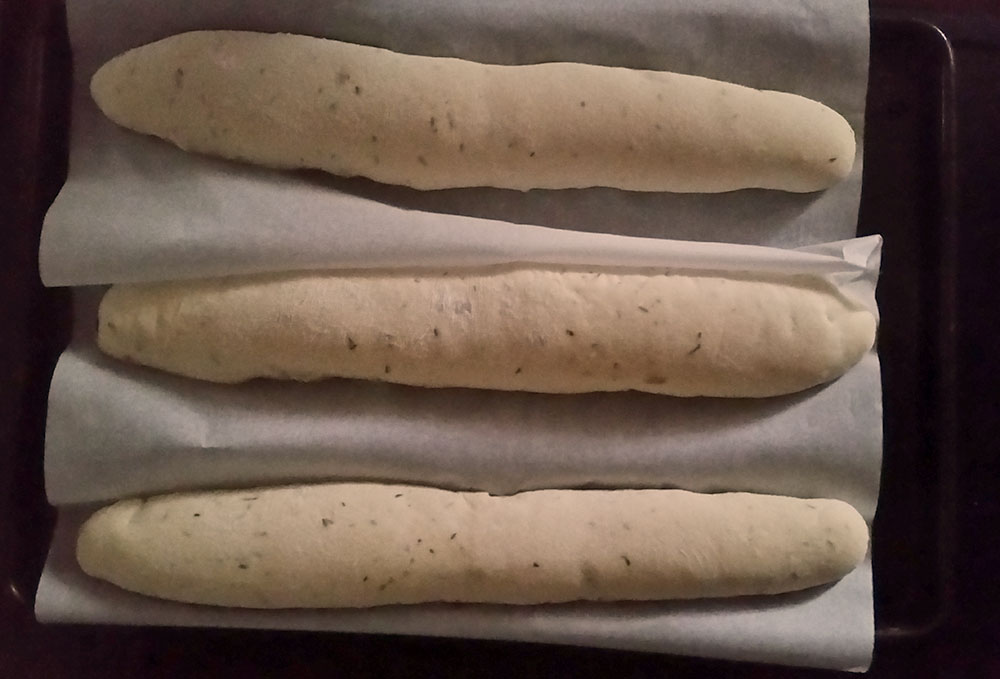 I'm thinking this would be scrumptious on a cheese and salami board, with some spicy cherry tomato jam. But, honestly, it's meatballs tonight, so…… yeah.
Because of the added olive oil, this has a softer crust than the original baguette recipe – it's almost like a focaccia-baguette baby. Very tasty, though. And man, there is just NOTHING like fresh bread. Alright – I'm off to take a loaf to the neighbors.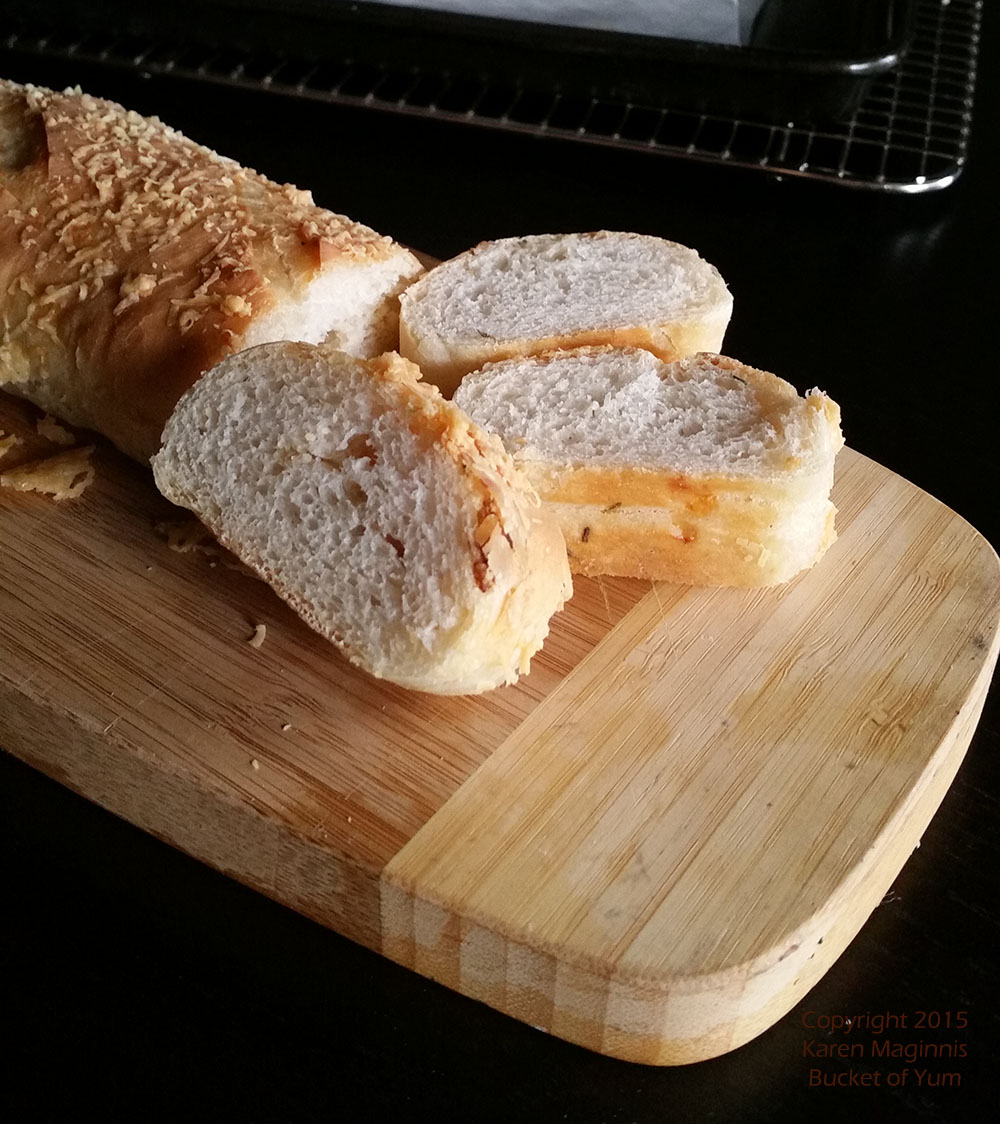 Bon apétit.

Ingredients
3.5 c AP flour
1.5 tsp yeast
1.5 c. warm water
3 tsp. kosher flake salt.
3/4 c. grated asiago
2 tsp. dried thyme leaves
4-6 cloves of garlic cloves confit**, coarsely chopped and
¼ c. of the olive oil from the confit
Instructions
Mix in flour, yeast, water in the KitchenAide with dough hook. Cover with saran and leave for ½ hr.
Sprinkle with 3 tsp. kosher flake salt.
Knead in KitchenAide for four minutes.
Sprinkle with ¼ c grated asiago, thyme leaves, garlic cloves and ¼ c. of the olive oil from the confit
Knead one more minute.
Cover with saran, proof 45 m.
Punch down, fold. Proof 1 hr.
Shape in to 3 ficelles, put in real or parchment couche, cover and proof 1hr.
Last 15m of the hour, preheat the oven to 475*.
One top shelf, put shallow baking dish with about ½" water.
Uncover the loaves, spritz with a little water then sprinkle with the remaining ½ c. shredded asiago, slice the tops baguette-style and bake for 20 m.
Turn off oven, leave in 5m before removing.
Notes
**What's garlic confit? Try this: http://www.foodandwine.com/recipes/garlic-confit
By Karen Maginnis
Adapted from Dan Leader's 4-Hour Baguette in Saveur
yields 3 loaves
calories 814
fat 27g
cholesterol 22mg
sodium 2750mg
carbs 115g
-fiber 5g
-sugars 1g
protein 26g