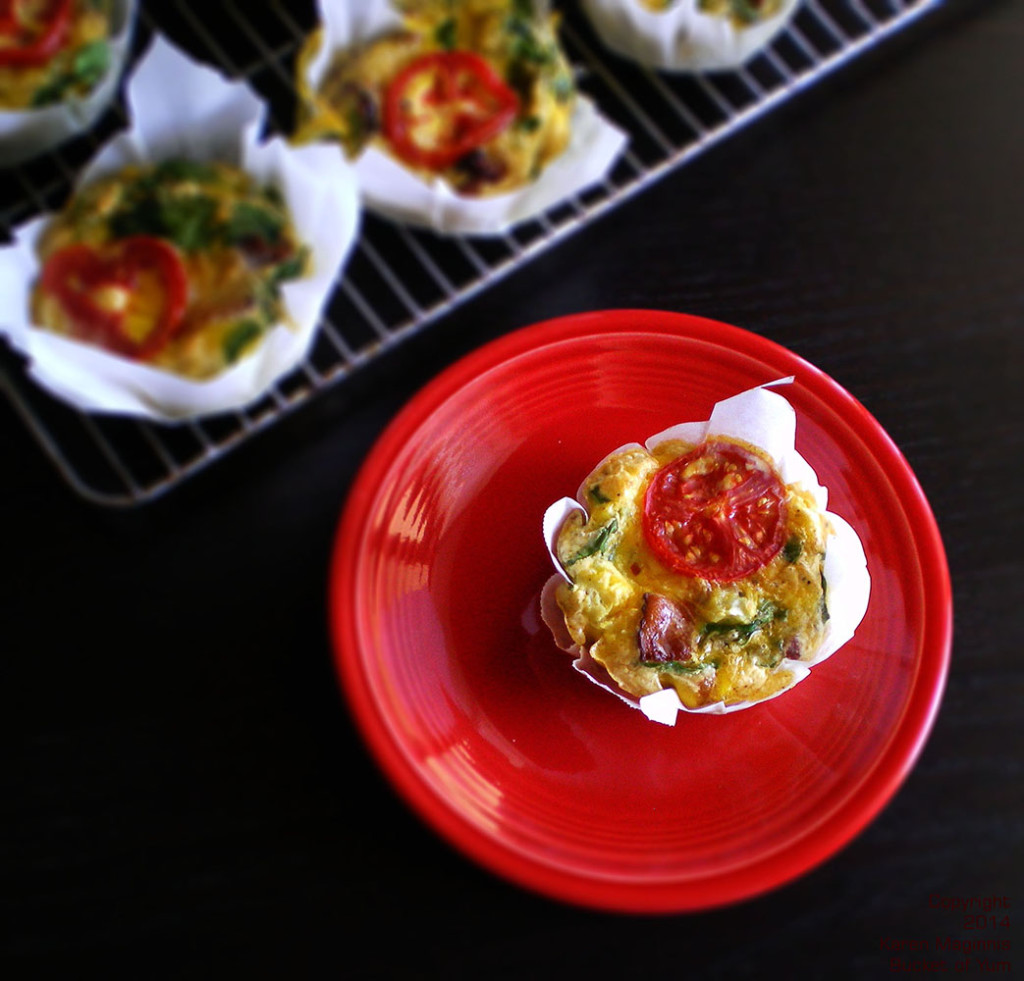 Ah, the joys of getting old. Bill was recently diagnosed as pre-diabetic, and had to make some major dietary changes. Essentially eliminating sugars from his diet for six weeks, then he gets to slowly reintroduce them. So, no more cereals for brekkie.
Thank goodness for the interwebs. We've been experimenting with making little omelettes in a jumbo muffin pan. Honestly, it's been pretty awesome – a grab-n-go for workweek mornings.
This week we have spinach, onion, bacon and tomato. Hope you try it, and like it!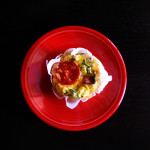 Spinach Tomato Bacon Mini Oven Omelettes
2014-05-04 12:19:19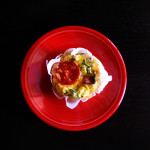 Serves 12
Make-ahead breakfast for the week
Nutrition Facts
Amount Per Serving
* Percent Daily Values are based on a 2,000 calorie diet. Your Daily Values may be higher or lower depending on your calorie needs.
Ingredients
2 c. fresh baby spinach, washed & chopped
1/4 white onion, grated
6 crispy sliced of cooked bacon, chopped
24 eggs, beaten with
20 shakes of salt
20 twists from the pepper mill
20 grates of fresh nutmeg
4 small tomatoes, cut in to thre slices each. Or 12 cherry tomatoes, sliced in half.
Instructions
Preheat the oven to 375.
Line the *jumbo* muffin tin cups with liners. (I just used parchment that I molded on the bottom of a jar)
Evenly distribute the spinach in the liners.
Then the onion.
Then the bacon.
Carefully pour the egg mixture in to the cups, about 1/2 to 2/3 up.
Carefully place the sliced tomato on top.
Bake 20 minutes.
Cool and wrap in wax paper for a great grab-n-go.
These reheat in a powerful 'wave in about 40 seconds.
Notes
These freeze beautifully, too.
Bucket of Yum http://bucketofyum.com/