(Originally published 22 Aug 2015. Edited 24 Mar 2019)
Holy herbacious goodness, Batman!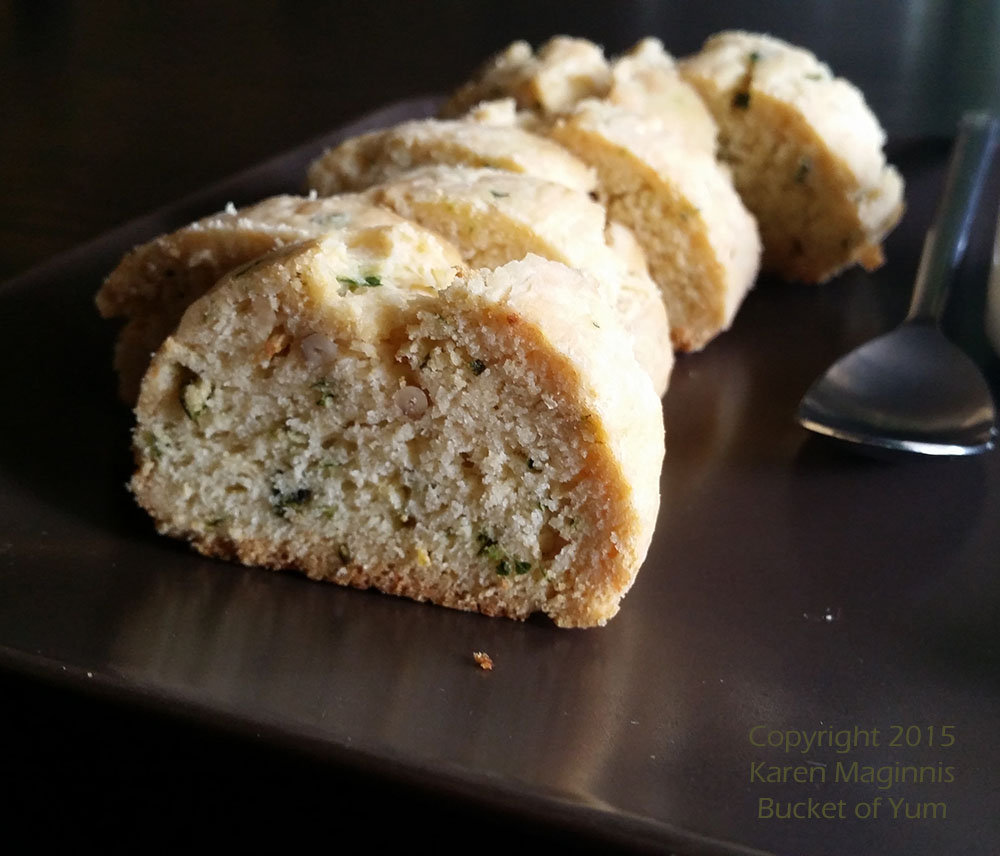 Still hunting for redemption after the Taralli failure, and started wondering about making a savoury biscotto. Did it exist?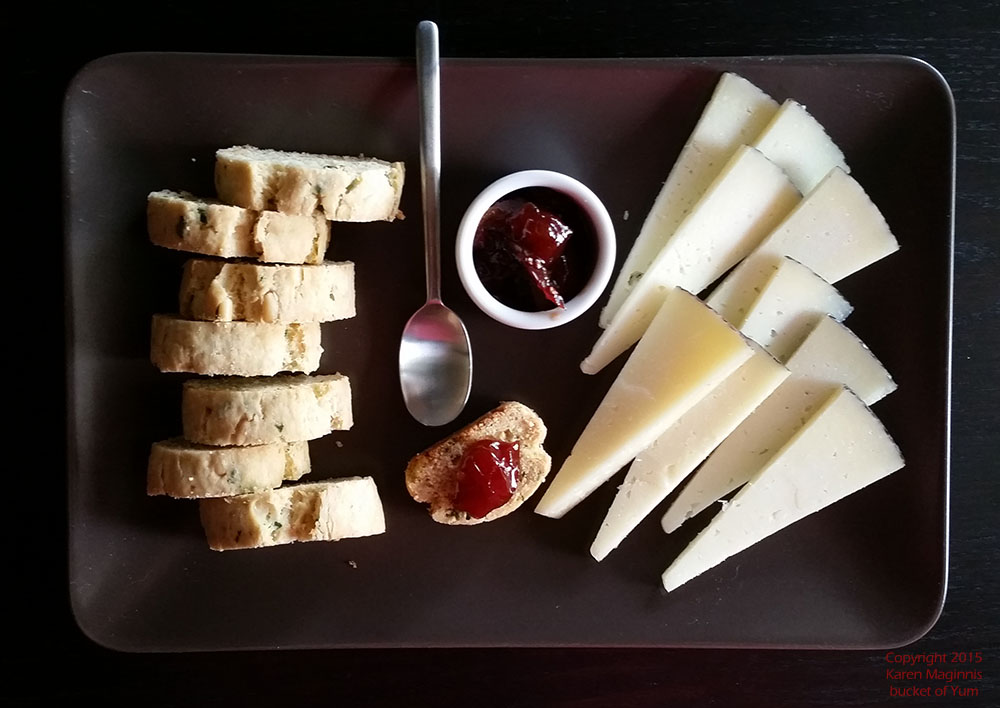 Google says yes! At least, yes one time thanks to La Bella Giada and all who have copied her, which would now mean me as well.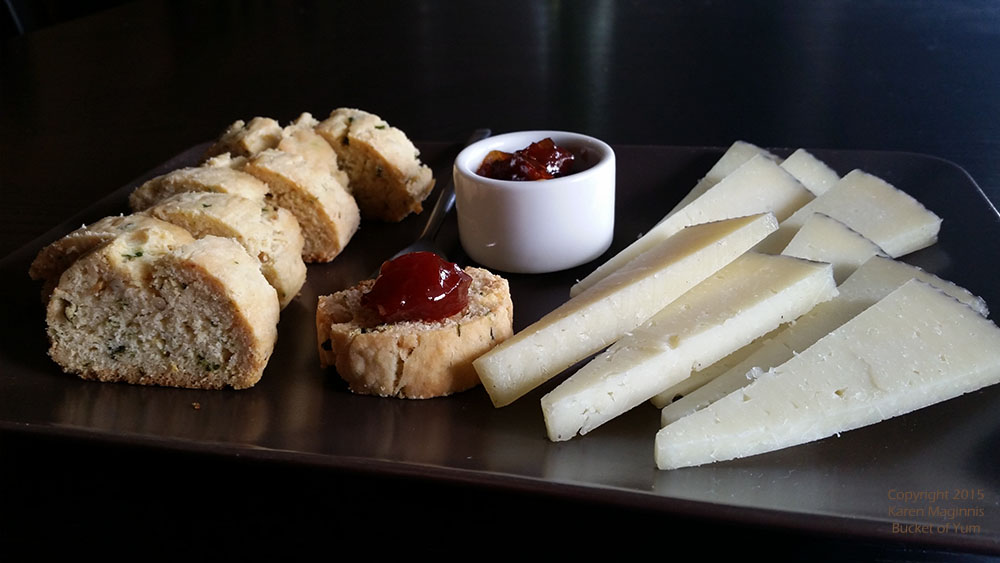 Hey – there's that darned spicy cherry tomato jam again! Forgive me. It is its swan song – I am down to my last two jars. As yet this season I've not found more toms cheap enough to justify making them in to jam.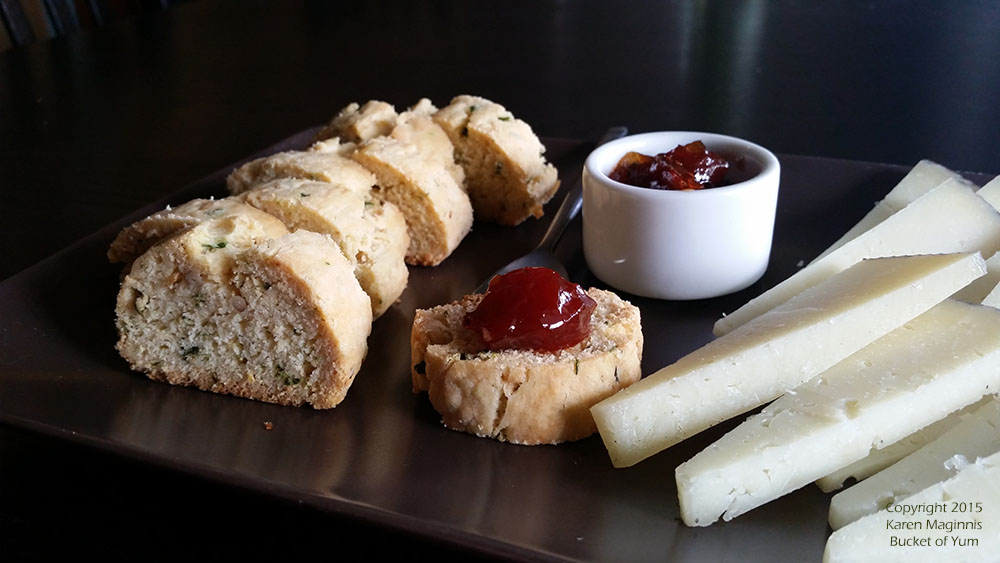 These lovely crunchy-but-not-too-hard biscuits are complemented beautifully by the spicy sweetness of the jam and the salty creaminess of the Manchega añejo.
Ingredients**
2 c. all-purpose flour
1/2 c. butter
1/4 c. goat cheese
1-1/2 tsp baking powder
3/4 tsp salt
1.5 Tbs minced fresh rosemary
1.5 Tbs minced fresh thyme
1 tsp lemon zest
1 tsp minced shallot
2 Tbs sugar
2 eggs, beaten
½ c. raw pignon nuts
Instructions
Preheat the oven to 350F. Line a baking sheet with parchment.
Put everything but the eggs and the pignolias in the mixer bowl (paddle attachment) and mix until it is a fine and crumbly.
Add the eggs, mix just till cohesive.. Then do the same for the nuts.
Split the dough in half. It should be just this side of barely holding together.
Barely dust your work surface with some flour.
Take each half of the dough and gently roll it in to a log about 12" long and 2" in diameter. Repeat w/ second log.
Put them both on the lined baking tray.
Flatten the logs ever so slightly, so the are more ovoid than round.
With a lame or a sharp knife, very lightly score the down the middle down the whole length of the logs. This dough splits a little when baking, the scoring helps you control where it splits.
Bake 30 min at the 350*.
Remove from oven and cool.
Using a sharp serrated knife, cut the logs in to ½" thick slices, and place them flat on the parchment.
Bake again about 15-20 mins until they are just barely golden and nice and crunchy
Notes
Store in an airtight container in the fridge for weeks. (Ha! Right! Like they'll last that long.)
Serve with soup, on a cheese board, with antipasto, or just plain.
**EDIT FROM 24 MAR 2019
I made this again this weekend for a picnic, and changed up the ingredients a little. I like this version better. Try this version, using the same directions as above:
2 c. all-purpose flour
1/2 c. butter
1/4 c. plain Greek (strained) yogurt
1-1/2 tsp baking powder
3/4 tsp salt
1 Tbs minced fresh rosemary
1 Tbs minced fresh thyme
1 tsp minced fresh sage
2 Tbs minced fresh parsley
2 Tbs sugar
2 eggs, beaten
1/2 c. chopped walnuts (not too fine, you want to see they are walnuts in the final version, but not so large they make the log difficult to slice. About the size of your pinkie nail.)
serves 36
calories 68
fat 4mg
cholesterol 17mg
sodium 57mg
carbs 7g
-fiber 0g
-sugars 1g
protein 2g