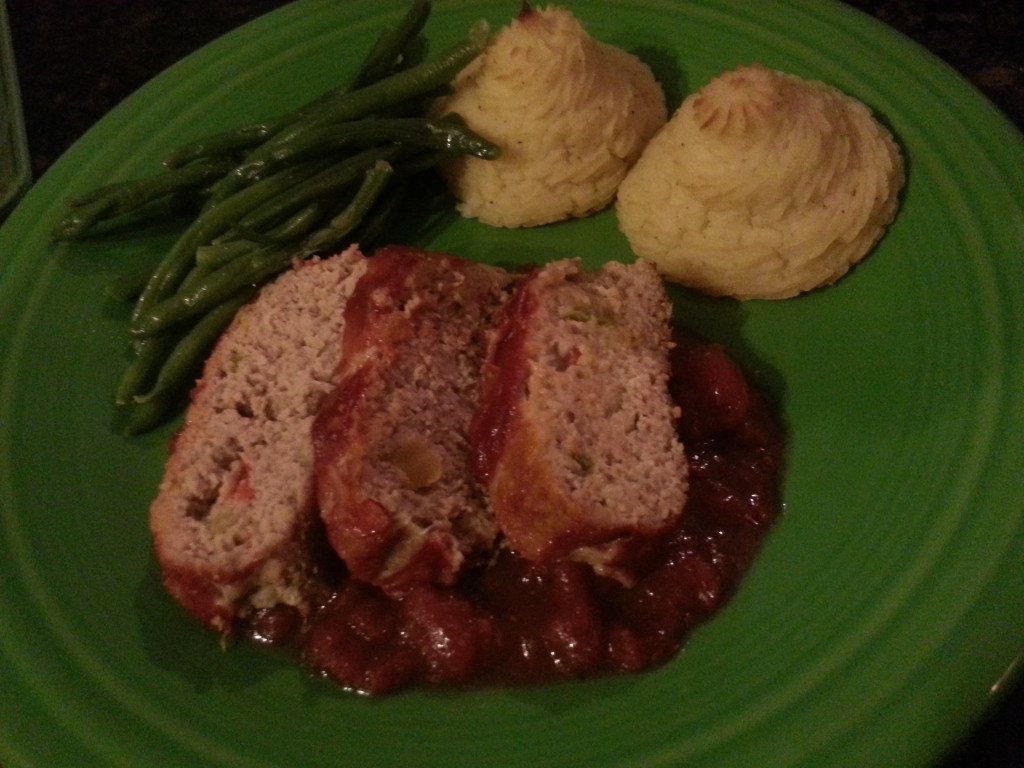 Bill is full of catchy little sayings – "What's the word, hummingbird?" and "Don't let your meat loaf." They make me groan and laugh at the same time. He also decided we should call these duchess potatoes, "tater titties". Despite all this I love him, Pa. And I'd rather have duchess potatoes than tots any day.
That being said, meatloaf is a popular dish at our house. For dinner and then sandwiches the next day (With mayonnaise -something else Bill taught me. I always thought ketchup was best, but I was wrong!)
We're partial to ground turkey in our house – the old beef/pork combo is just too rich for us.
Want to try it?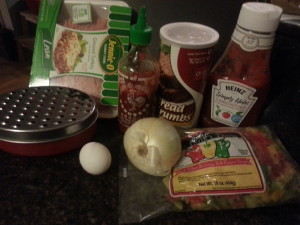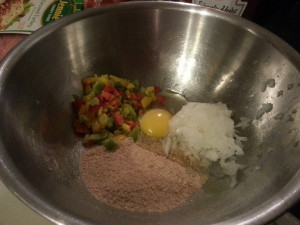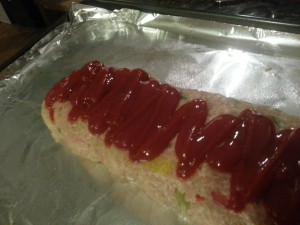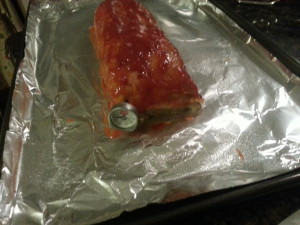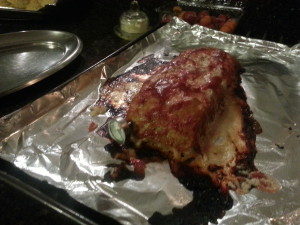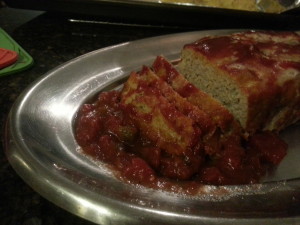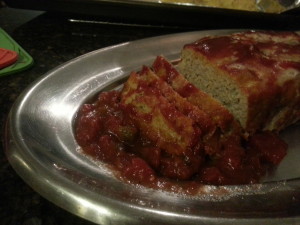 Meat Loaf, Don't Let Your
2013-10-20 18:04:02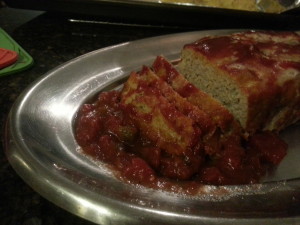 Serves 4
Easy turkey meatloaf with a spicy sweet tomato glaze, served with a chunky tomato sauce.
Nutrition Facts
Amount Per Serving
* Percent Daily Values are based on a 2,000 calorie diet. Your Daily Values may be higher or lower depending on your calorie needs.
Ingredients
1.25 # ground turkey (Jennie-O 93/7 is best!)
1 egg
1/3 c. dried bread crumbs
1/3 c. diced bell pepper
1/4 c. grated onion
For the glaze
1/4 c. tomato ketchup
2 Tbsp. Sriracha
(Ok, ok - I just totally made up those glaze measurements because I just squirt them both on and then smear them about.)
For the sauce
1 14oz can diced tomatoes with onion, celery & bell pepper
2 Tbsp olive oil
1&1/2 tsp worsteshire sauce
2 garlic cloves, crushed
1Tbsp sugar
2 Tbsp balsamic vinegar
1/4 tsp. dried thyme
1/8 tsp ginger powder (or better yet, a quarter-size piece of candied ginger slice)
Instructions
Preheat oven to 375*. Line a small cookie sheet with silver foil and spritz it with non-stick spray.
Grate the onion in the mixing bowl. Chop the pepper, add to bowl along with the egg and bread crumbs. Mix with a fork. Add the ground turkey. Mix gently with your hands. In the bowl, form the mixture in to a general loaf shape. Invert the bowl on to the prepared cooking sheet and touch up the loaf shape.
Squeeze the ketchup and sriracha on to the loaf, and using your fingers since they're already dirty, mix the two sauces and spread them evenly on the top, ends and sides of the loaf. Slide a meat thermometer in to that bad boy and in to the oven he goes. Should be done (165* ) in about 35-40 minutes.
Let it rest for five minutes before serving.
For the sauce
Once the loaf is in the oven, put all the sauce ingredients in a sauce pan on low. Simmer, stirring occasionally, until the meatloaf is done. Serve with the slices.
Notes
You could cook this in a loaf pan, but cooking it "open style" on the cookie tray makes for that yummy crust and glaze on three sides of the loaf instead of just the top.
Be careful with your ground turkey selection - read those nutrition labels because some can be 80/20. If you're going that route, may as well do a ground beef meat loaf!
Bucket of Yum http://bucketofyum.com/